NOVA: High-Risk High-Rise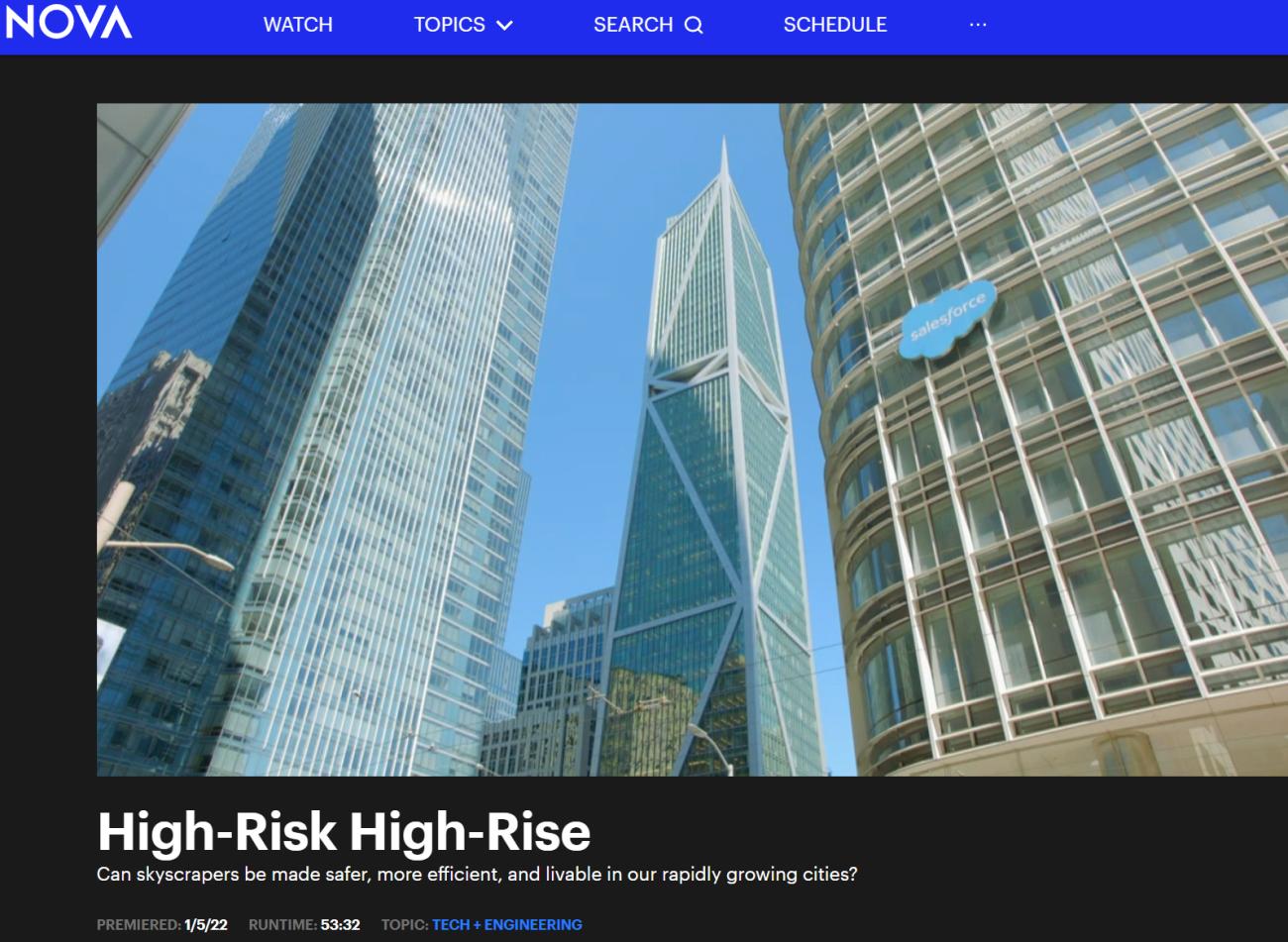 The PBS NOVA series had a program on High-Rise Life Safety that highlighted our 181 Fremont project.  The program premiered both nationally and locally on KQED on January 5, 2022.
181 Fremont is a state-of-the-art mixed-use office and residential high-rise tower located in downtown San Francisco. Standing 800 feet and 54 stories tall, this project demonstrates modernism in design, resilience, sustainability, and neighborhood integration. It is rated as a REDi Gold project, the highest level of structural resilience and was the first high-rise in the world to have all elevators designed to be used for evacuation during a fire or other emergency. The unique structural system is expressed on the building's exterior, enhancing the skyline expression, and adding a dramatic focal point to this evolving district of the city. The project is a LEED Platinum building and has several innovative design features including the shading curtain wall design, green roof, and graywater harvesting system.
Program Description:
Every year, hundreds of new skyscrapers are built around the globe. As nations vie for prestige and developers look to maximize limited urban space, these shimmering towers are rising higher and higher. In China alone, dozens of buildings reach over 1,000 feet, with a few approaching 2,000 feet. But for all their impressive engineering, are these buildings safe?
And can they be made livable? Are building regulations keeping up with the vertical building boom? In San Francisco, skyscrapers can be built on unstable, sinking ground. And internal sprinkler systems—the only hope for extinguishing fires that burn beyond the reach of firefighters' ladders—are often ineffective. Now, NOVA explores the science behind the risks of sky-high buildings, from the structural limits of building materials to the threats presented by wind, fire, and earthquakes. Experts show how the science of evacuation has shaped buildings in recent years, and what we have—and haven't—learned from past tragedies.
Web Link: NOVA | PBS
Credit: © 2022 WGBH Educational Foundation 
Project